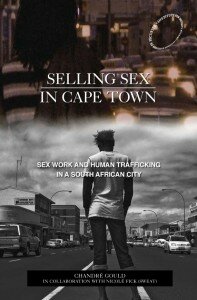 If you find a broken link or would like to add a site to this resources list, send an email to .
Global Commission on HIV and the Law-2012
Must Read: Ten Things Not To Do If Arrested
Health and Safety
A Guide to Occupational Health and Safety in the New Zealand
ESRC Project: Migrants in the UK Sex Industry
The San Francisco City Clinic offers STD and HIV testing and counseling, along with family planning services. Their web site also lists resources for STD questions and updates.
Con Stellation Magazine May 2009
Recommended Articles, Papers, Studies and Books
A MUST READ Selling Sex in Cape Town "This two-year study by the Institute for Security Studies and the Sex Worker Education and Advocacy Taskforce is the first complete survey and analysis of the sex work industry in a South African city, Cape Town
Sex Worker Union Organising, An International Study
Sex at the Margins: Migration, Labour Markets and the Rescue Industry by Laura Agustin
Sex Worker Unionisation:An exploratory Study of Emerging Collective Organisation by Gregor Gall From the Industrial Relations Journal 38:1, 70-88. Gregor Gall is Professor of Industrial Relations and Director of the Centre for Research in Employment Studies at the University of Hertfordshire.
Research For Sex Work Annual Publication Issue 10, July 2008
Prostitution Sex Work and violence Gender and History
Executive Summary of Move Along; Policing Prostitution in Washington D.C.

Addressing Sex Work as Labor.
Melissa Ditmore, Network for Sex Work Project
Note: This article is based on the Australian model of legalization by regulation and legislation. ESPU does not advocate this model for the US. However, this article makes excellent points and must be included in ongoing discussions about decriminalization
Redefining Prostitution as Sex Work on the International Agenda. Jo Bindman, Anti-Slavery International.

Goverment Accountability Office of the United States of America Report on Human Trafficking July 2006
Legalization of Prostitution: the End of Trafficking for the Purposes of Sexual Exploitation?
The San Francisco Task Force on Prostitution Final Report March 1996
FINAL San Francisco 1996 Task Force on Prostitution Report
World Charter for Prostitutes Rights
Labor Organiations
West Coast Cooperative of Sex Industry ProfessionalsVancouver sex workers expressed their desire to explore cooperative business models as a way to generate alternative sources of income, increase health and safety, build community capacity and begin to take control of our collective destiny. This cooperative corporation will be a for profit endeavour with its membership guiding all decisions.
Karnataka Sex Workers Union
Nigeria Labour Congress
Organización Nacional de Activistas por la Emancipación de la Mujer of Bolivia
Scarlet Alliance The Umbrella Organization for sex industry workers and organization in Australia
South African Commercial, Catering and Allied Workers Union
The International Union of Sex Workers This Union joined with the GMB is Britain's General Members Union. The GMB is a general union of 700,000 people of whom nearly 40% are women.
De Rode Draad, Dutch for The Red Thread This group closely collaborates with the union Hydra-Germany
FNV which has accepted prostitutes as members since the full legalization of brothels in the Netherlands 2000.
UNION OF THE ENTERTAINMENT WORKERS OF INDIA Durbar Mahila Samannwaya Committee, Kolkata
Industrial Workers of the World Sex Trade Workers 690
Women in Informal Employment: Globalizing and Organizing
Coalition for Labor Union Women
Labor Center in Berkeley California
San Francisco Labor Council Google your local town or state's name along with the words labor council or labor federation.
How to Form a Union Where You Work. California Labor Federation.
Non Goverment Organizations
International Commission for Labor Rights
Sex Workers Education and Advocacy Taskforce
Sex Professionals of Canada, Toronto
Surrey Girlz, Surrey, Vancouver
Davida-Brazil
Asian Pacific Network of Sex Workers
Mexico
Sex Workers Outreach Project East
International Sex Worker Foundation for Art, Culture and Education
Sex Workers in Europe
Feminists advocating for rights and equality for sex industry workers
Worst of San Francisco
Political Organizations
The Green Party RR550